Feb 2010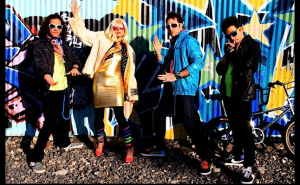 What better way to brighten your night with a band dedicated to feeling awesome? Yet, the true awesomeness about this band is their equal parts fun and tremendous musicianship.
The Awesomeness is a new 80s-inspired electronic pop band with killer vocals to boot. The band members include Val Derringer, Golden Delicious, and two guys who both go by one unified name, "The Steves!" They hit the Viper Room stage on Wednesday night for their official debut album release party. The room was filled with a packed, enthusiastic crowd of various ages. Although the band is newly formed, it already has some die hard fans, some even wearing Awesomeness t-shirts to demonstrate their pride.
Right away, one can tell this band stands apart from the norm. "We don't have any live drums or bass," lead singer Derringer says. The band's instrumentation is made up completely of keyboards, guitars, recorded tracks, and of course, a keytar. What would a 80s band be without a keytar?
The band did a great job of mimicking 80s production quality. Aside from their guitars, they have many other "retro" sounds. Derringer plays the Nord lead 2 keyboard that uses digital processes but is known for making rich, warm analog sounds much like a bright electric piano. It doesn't hurt that it is mini in size and comes in bright red to match the decade's flashy and unique kooky style. The band uses a Moog synthesizer to create the deeper bass sounds; and of course, the drums are programmed. In addition, there are many layered tracks coming through keyboards and even computers, on stage. One can truly tell that the songs were consciously written distinctly for this unique song arrangement.
Vocally, Derringer has an incredible strong male tenor voice with every note easily hit. It's also nice to note that the beautiful Golden Delicious also has a beautiful voice to match her exterior. On top of that, "The Steves" sing as well. According to Derringer, "With multiple singers, it allows songs to have a wider range of notes and be more expansive." In particular, with a man and woman both singing lead, it provides that genuine blend that can usually only come from male and female voices singing together. When all four sing at once, it is powerful experience of layered harmonies and strength.
They opened the show with what will most likely be their calling card song: "80s Days," appropriately titled as a great tune in both lyrics and melody to tribute their favorite era that captures the spirit of the band. Listening to the lyrics, one cannot help but remember the good times of years gone by.
The band played all eight original songs from their album, as well as a couple of appropriate covers, including: "Video Killed the Radio Star," and "I Wear My Sunglasses at Night." Both tunes were so great to hear live by a band of such quality.
Two original tunes that stand out include: "Never Gonna Get this Chance," and "Sticky Situation."
The song "Dance Demander," has a great story behind it. As Derringer says, one day he was fooling around with some goofy dance moves and made everyone laugh out loud. Then, someone asked him to repeat the same move again and he refused. The person then demanded him to do the move again, to which Derringer replied: "You know what you are? You're a Dance Demander." And hence, a song was born.
Derringer and Delicious both write songs together as a collaborative effort. As Derringer says, "When you have another writer agree with a line it is much easier to put it to rest." Thanks to their combined effort, they manage to produce some truly great hooks, intricately arranged. It seems that they combine the best of both worlds into each song: dance-ability with intellect and truly great production value that truly captures the heart of their favorite era.
Last but not least is a shout out to their look and stage presence.
The band truly goes out of its way to dress the part. All four members look as if they just stepped out of a Lionel Richie or Cyndi Lauper video. There were more colors, sunglasses, jelly and braided bracelets, turquoise jackets, British flags (very big 80s fad), frilly skirts, and pink shirts on stage than in the entire crowded room! …Props for making their clothing a big part of the 80s essence of the show.
The band may have titled themselves after the decade's favorite adjective, but they are the ones that truly take the word awesome to a new level with awesomeness.
Link to the article