Mashups
They are fun to do and you take from them what you will

---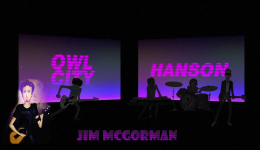 Unbelievable - Mashup with Owl City and Hanson

:

Just happens that Hanson have a song with same name as Jim. The only thing these two songs have in common beside the title is the uptempo vibe, else they are totally different. Which didn't stop us to combine them. After all, we love Hanson and we love Jim, so why not.



General Public - Tenderness

Vocal Mashup:

One of the biggest hits in the US from the 80's. As performed by General Public in 1984 and Jim's John Hudges Tribute Band in the Viper Room in LA, in Oct 2009. This song was on the soundtrack of John Hughes' Weird Science and Amy Heckerling's Clueless. Jim is on fire on this one - enjoying himself to the max.



Orchestral Manoeuvres In The Dark

- If You Leave

Vocal Mashup:

A huge hit in '86 in the US; also on the soundtrack of the John Hudges' Pretty In Pink movie. This is the official video vs. Jim's performance as part of the John Hudges tribute show in the Viper Room in LA, in Oct 2009.



B.o.B/Bruno Mars - Nothin' On You

Vocal Mashup:

A little gem of a clip: Jim singing one of his current favourite songs (well, he told us!) and the official video of the song. Jim just nails it. Made exclusively for sunfired by Kurt Zendzian. Thanks Kurt and thanks Jim for sending that to us! Oh and here is the MAC version.



Nik Kershaw: Wouldn't It Be Good

Vocal Mashup: Jim performed this mega-hit from 1984 (weren't the 80's fantastic???) with the band he put together as a tribute to John Hughes, the director of Pretty in Pink, where this song was featured. The band performed only once - but what a nostalgia show that was! Nik's performance was at the Live Aid concert in London in 1985.



Sum 41: In Too Deep -

Combination of clips from Nagoya, Shanghai and Beijing with both Deryck Whibley and Jimmy singing lead. Jim parts have watermark top left.



The Police: Message in A Bottle

Vocal Mashup: It's amazing how much Jim sounds like Sting in this impromptu performance of The Police greatest hit. It was during the sound check of The Best Damn Band for the Taratata TV show in France in March 2007. Jim nails it. We think it's pretty cool.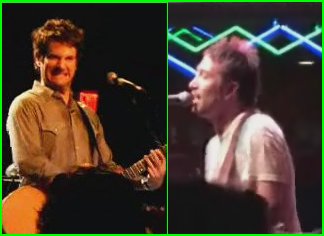 Jessie's Girl:

Matt Nathanson vs. Jimmy. A combo video of the two mates performing Jessie's Girl (Matt in TLA, Philly, Oct '08; our Jimmy in LA, Aug 06). Who do you think is better? Silly question. Matt is not bad though. Rick Springfield is not in contest.



Rick Springfield: Jessie's Girl

Vocal Mashup: How awesome is this song? One of our favorite songs of all time and eternity. Rick's performance is from 1983 and full band; Jim's is from 2006 and acoustic, but they are both fantastic and we think blended pretty well. Oh and talk about "my jeans were skin tight"



Don Henley: Boys of Summer

Vocal Mashup: Jim did another fantastic cover in 2006 ago, during the Universal City Walk Rockstar Supernova concert. The song was the Don Henley classic; so we thought it would be cool to make this mashup with Jim and Don. We have no idea where and when Don Henley performed it, looks a bit like lipsynching to us - but Jim is very much live and on top of his game. You can check out Jim's entire performance here. With some "help" from Paul Mirkovich.



and

New Radicals: Get What You Give

Vocal Mashup: Just because we can.


Jim performed this iconic song with:

- New Radicals on the

The Tonight Show w/ Jay Leno

in 1998
- Michelle Branch during

the Pantene Pro Voice

concert in 2002

We are not comparing who sings better, Jim or Gregg; It's just that it was a fun thing to make and share it with you. The two clips are the same thing, the bridge of the song, just in reverse. Hard to explain but you will see what we mean. Oh... and keep your shirt on - it's pretty crude but we think it's fun to see. Enjoy!
---