Interviews

---

Helen Leicht's show on WXPN 88.5 fm Sep 20, '12.


Jimmy Star Show, Jan 18, '12.



Interview - part 1

Interview - part 2

Jim talks about many things: X Factor, being a Musical Director for various artists, how he met his wife, what his music means to him and why he is at peace as an independent artist, how his latest song "Get It Out" came about and many other things (you know how Jim loves to talk).

ConciergeQ Conversations: Jim McGorman - May '11



The podcast for ConciergeQ Conversations with Chantal Westerman. First of all, Chantal gives a glowing introduction to Jim. Then the interview - one of the best ones we have heard, read or seen: with a lot of interesting questions about food and travel; life on the road (the good sides and the bad ones) about Avril, Cher... and more! Jim's answers are VERY intersting as well. Amazing stuff.

Concierge Interview



Sterling Audio

- April 14, 2011

- Jim elaborates how he records the voice. He expects the singer to help there actually. And... we love your gravelly voice, Jim!





Sterling Audio

- April 14, 2011

- Jim gives a few tips how to record guitar sound. Quite interesting actually. The song at the beginning and the end is called "Everything Changes" - one of Jim's unreleased songs. He wrote it together with Todd Johnson.



Sterling Audio Interview

- April 14, 2011

- Despite the title, it's actually a video

interview for

Sterling Audio

.

And it's bloody awesome. As the write up says:

A fan of Sterling Microphones, Jim McGorman discusses his career as a musical director and guitar player for some of the biggest acts in music. Jim has rocked with Avril Lavigne, Weezer, Paul Stanley (KISS), Poison, Rebekah, Cher, Shakira and more. Find out what it takes to make it as a pro musician and set up your own studio. Sterling microphones provide a large range applications for home recording at a fair price.

The song Jim plays and sings is his own, called "Everything Changes".


Jim's interview with www.iconfetch.com - April 2011



Check out the phone interview - it's awesome. Jim talks about everything and anything, he is very informative and funny. Or as the write up says:



Jim McGorman is currently on tour as Avril Lavigne's guitarist in support of her latest record, Goodbye Lullaby. The multi-instrumentalist was also a part of the house band for both season's of the CBS show "Rockstar" (INXS & Supernova). He's toured with a variety of people, including Cher, Shakira, and Paul Stanley of Kiss. In addition, he also makes music of his own. Icon Fetch talks with the Philadelphia native about his multi-faceted career - how he got hooked up with Lavigne, helped put together a made for TV band, and manged to continue to be a much-sought after instrumentalist. He also shares some great stories of being on the road.



No wonder he is our favourite musician!




Jim @NAMM - Jan 2011

A very interesting interview (Courtesy of Gearwire) - where Jim talks about many music related things - mainly around how a professional musician not only survises but also is successful in these times. Really great to see.




and

Fox Business Channel - Jan 2008: A two part video about how the Internet changed the music industry with Jim on the panel. Jim's part starts about 2:30 minutes of the first clip and is throughout the second. He has very interesting things to say.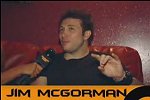 Portable Vinyl Interview in The Mint - Sep 2006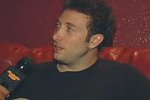 Portable Vinyl Interview in The Mint - Sep 2006

(unedited)

---