July 2009

Cher sang with Ray Charles, Frank Sinatra, Elton John . . . and now, with my son Jim McGorman.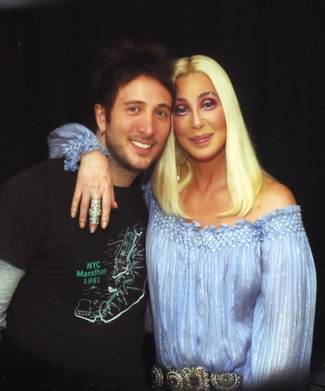 This spring I flew to Las Vegas with my daughter Suzanne to see my son sing a duet with Cher at Caesars Palace. It was the same place where, at the age of 22, I saw Elvis perform. Even though Elvis left the building long ago, somehow this sequinned place still holds the ghostly glimmer of lost dreams.
Although Jim has had a successful career for 14 years as a musician, singer-songwriter and most recently toured as MD (musical director) for Avril Lavigne, nothing he has accomplished thrilled me as much as this duet with the Diva, who is my contemporary.
I recall when Cher was a teenager. She was singing with Sonny, "I got you Babe." I ironed and dyed my hair to look like her. I bought a Lerner's version of her crazy big bell-bottom pants. I painted my eyes with heavy black eyeliner. I was a Cher copycat and fan, even then. I watched her life and loves and felt a generational kinship, in a kind of parallel universe.
Strangely, my love life mimicked hers. Divorced from my childhood sweetheart and then widowed from my second husband, I dated later in life. I watched her be single and sensational. Somehow she gave me hope. For years I watched as she boldly said many of the things I thought but only she was courageous enough to utter. Once on a talk show she referred to herself as a "serial monogamist." I loved that phrase and added it to my monologue. 

When she found out our troops in Iraq could not get protective gear, she bought it for them!
When my son entered stage right playing keyboards and singing alone the Peter Cetera hit "After All," I found myself digging my nails into my poor daughter's arm. I was so nervous. She yelled in a whisper, "Mother!" "Sorry." I winced, unaware of my reaction. After all, Cher sang with Ray Charles, Frank Sinatra, Elton John, Michael Jackson, to name a few, and now Jim McGorman. Watching a son join those ranks would make any mother anxious.
Cher entered on a Viking boat stage left surrounded by smoke like the heroine she is, and I relaxed. They sang the duet flawlessly and I was enthralled. My baby was singing a duet with Cher, unbelievable! He was an infant when the Sonny and Cher show aired. I would rock him and he would hum in my ear to the show and now he was singing with her in the flesh!
I did get to meet her and she was thoughtful enough to take a photo with my family when he first toured with her, on her not-so-farewell tour. We were at the convention center in Atlantic City. [Jim] motioned us from the audience to her dressing room right before she went on. [The] photo of us is featured on my coffee table. While she made very nice comments, I can't even remember what I said to her, I was tongue-tied. In her presence I was, for once in my life, at a loss for words. She looks incredible, even up close.
When Jimmy was on this tour he told me, "Cher is one of the classiest people I have ever worked with." He said that she spoiled him for any other tour. She would treat the troupe to the movies, hiring out whole theatres on their days off. He would I chat me from lavish hotel suites around the world and show me the flat screen tv in the bathroom, in one of them. Cher even chartered a 95 ft yacht and took them on a tour of Sydney harbor in Australia.
Cher's career was only briefly on the wane with Sonny before their popular TV show. After her split with Sonny, she reinvented herself as a solo artist and Academy Award winning actress, who has sustained in popularity for decades. She is as much an icon as Michael Jackson. In my book, she is as multi-talented. Moonstruck and Mask were classics and my favorite of all her movies.
She has defied the aging process. When my son sent me this photo that she was gracious enough to take with him I said, "Jimmy, she looks as young as you!" To which he replied, "Very good, mother." Which is his nice way of saying to his star-struck biggest fan Mom, "Shut up, Mom."
As I was leaving Las Vegas, for a second I grew melancholy remembering my youthful expectations at 22. Reality intervened and they evaporated like the heat rising from the desert. Some dreams were realized and some never will be. They are tempered with time. Like Cher, I just want to keep on using my talents for as long as I can and to enjoy my adult children.
And The Beat Goes On. Cher's show will resume at Caesars this fall.
Link to the article